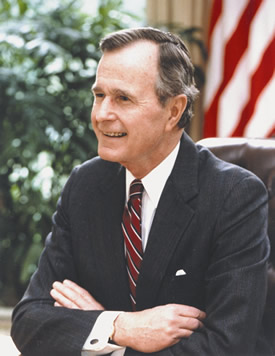 Washington Free Beacon ... May 1, 2014
Editor's Note:
This is the New World Order(which doesn't officially exist) at work.
From You Tube...
George H.W. Bush 'New World Order'
From You Tube...
Henry Kissinger 'New World Order'
From You Tube...
Joe Biden 'New World Order'
Soros funded groups leading to a New World Order

...
Center for American Progress
: This leftist think tank is headed by former
Clinton
chief of staff
John
Podesta
, works closely with
Hillary Clinton
, and employs numerous former Clinton administration staffers. It is committed to "developing a long-term vision of a progressive America" and "providing a forum to generate new progressive ideas and policy proposals."
Center for Community Change
: This group recruits and trains activists to spearhead leftist "political issue campaigns." Promoting increased funding for social welfare programs by bringing "attention to major national issues related to poverty," the Center bases its training programs on the techniques taught by the famed radical organizer Saul Alinsky.
Center for Constitutional Rights: This pro-Castro organization is a core member of the open borders lobby, has opposed virtually all post-9/11 anti-terrorism measures by the U.S. government, and alleges that American injustice provokes acts of international terrorism.
Center for Economic and Policy Research
: This group opposed welfare reform, supports "living wage" laws, rejects tax cuts, and consistently lauds the professed achievements of socialist regimes, most notably Venezuela.
Global Centre for the Responsibility to Protect
: This group contends that when a state proves either unable or unwilling to protect civilians from mass atrocities occurring within its borders, it is the responsibility of the international community to intervene -- peacefully if possible, but with military force if necessary.
Institute for New Economic Thinking
: Seeking to create a new worldwide "economic paradigm," this organization is staffed by numerous individuals who favor government intervention in national economies, and who view capitalism as a flawed system.
Institute for Policy Studies
: This think tank has long supported Communist and anti-American causes around the world. Viewing capitalism as a breeding ground for "unrestrained greed," IPS seeks to provide a corrective to "unrestrained markets and individualism." Professing an unquestioning faith in the righteousness of the United Nations, it aims to bring American foreign policy under UN control.
International Crisis Group
: One of this organization's leading figures is its Mideast Director, Robert Malley, who was President Bill Clinton's Special Assistant for Arab-Israeli Affairs. His analysis of the Mideast conflict is markedly pro-Palestinian.
New America Foundation
: This organization uses policy papers, media articles, books, and educational events to influence public opinion on such topics as healthcare, environmentalism, energy policy, the Mideast conflict, global governance, and much more.
Think Progress
: This Internet blog "pushes back, daily," by its own account, against its conservative targets, and seeks to transform "progressive ideas into policy through rapid response communications, legislative action, grassroots organizing and advocacy, and partnerships with other progressive leaders throughout the country and the world."
Continue your research:
GEORGE SOROS
CW
GEORGE SOROS
TOPICAL
GLOBALISTS AND THE NEW WORLD ORDER
CW
...